We all like stories. We create them. We consume them. We distribute them. And we remix them. Today, I have a little story to tell you about Remapping Europe.
A lot of time, the most interesting things that happen around proffesional and cultural projects are the unexpected and unplanned things. Yes, you usually have a budget, meetings, agendas, dates, workplans, teams, tasks, documents, emails and of course, stressful situations.To be very brief, Remapping Europe is an international project run by  Doc Next Network, to create and share stories to rethink our european identity. We want to work with migrants to 're-map' Europe visually, geographically and mentally. But as you can see (and feel), this is the official definition. And of course, I can tell you a lot of things from this perspectives (because believe me, in the Doc Next Network, we love to open new documents. We are on the very brink of crashing Google Docs). So, this morning, I experienced something that showed me a personal and unofficial definition of what Remapping Europe is.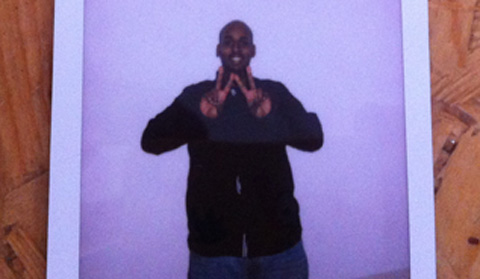 This is Ahmed. He was born in Somalia but he is living in London. His father was very lucky: in Somalia, someone working at the BBC there who could get out people of the country organized a kind of job-offer to get out 3 people from there. There were a lot of people who wanted to leave the country. Ahmed's father was one of these.
Ahmed studied Filmmaking in London. Now, he is in contact with the Refugee Youth organization, based in London. And now, this organization is collaborating with the British Film Institute (one of the hubs of the Doc Next Network). He will be one of the "Travelling Participants" in Remapping Europe. His responsibility is to travel to every country (Poland, Turkey, Spain) and to be the storyteller of these experiences to the rest of Refugee Youth.
I met him yesterday. It was the first workshop of Remapping Europe in Warsaw. We had to make a game to present ourselves. We were in pairs, and we had 15 minutes to tell our story. Then, we had to present our partner to the others and take a photo of him/her. It was in the moment that Ahmed told us that he has two kids, and in the photo you're watching he is imitating one of his kids making a "double-sign-of-peace" with his hands.
But it was this morning when I really felt "Ok, this is Remapping Europe". We were having breakfast. When you are not an anglo-parlant, it's the worst moment of the day because your english-skills are still sleeping. But then we started a conversation about free culture. And I was myself again, explaining the main core of Free culture, the Creative Commons licences, what the public domain is, etc. And then we connected with the african oral tradition of Ahmed.
And there we were: a Canary guy with French and Andalusian roots (and maybe it's my intuition, with Phoenician ancestors) talking about free culture with a Somali guy living in London, in the middle of the snow in Warsaw.
I know that maybe it sounds naive, but for me, I realised in this moment that it's part of my work. But it's also part of my life. Because we were remapping europe.
—
Abrelatas says: Thankx Matt, for helping me with my English!